CRUSH FOR 5-7 YEAR OLDS
orange rovers program / travel
mighty strikers program / community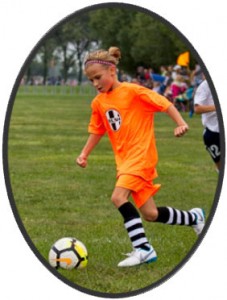 MIGHTY STRIKERS PROGRAM / COMMUNITY / provides a fun and age appropriate learning environment in which young players discover and develop foundational body mechanics and soccer skills: running with the ball, stopping the ball, changing direction while running with the ball, passing, shooting, tackling, etc. Players also participate in short scrimmages and mini tournaments.  Mighty Strikers Program instruction is designed to improve spatial awareness, basic soccer problem-solving, physical literacy, team-work and sportsmanship. The program has been created by soccer and early childhood education specialists.  A great way to learn to love the game! NO TRAVEL REQUIRED.
Several 4-6 week sessions offered throughout the year. Enrollment is on one session at a time basis. Players must wear athletic shoes and shin guards.  Players must bring a water bottle.
MIGHTY STRIKERS PROGRAM players are eligible to join MPSA CRUSH ORANGE ROVERS fall and spring travel teams.
2023-2024 Sessions
FUN introduction to travel soccer for 4 to 6 year olds
Age appropriate skill building curriculum and methodology
 SEPT-OCT / $150 per player
TU+TH / 6:00-6:45 PM
CONCORDIA UNIVERSITY – grass field – 4090 Geddes Rd, Ann Arbor 48105
Parking off Earhart Rd
SEP 12,14,19,21,26,28
OCT 3,5,10,12
 UPCOMING SESSIONS 
SESSION 2: NOV-DEC at EMU – Indoor
SESSION 3: JAN-MAR at St Paul – Indoor
SESSION 4: APR-MAY at Concordia – Outdoor
ORANGE ROVERS PROGRAM / 2018-2016 BIRTH YEARS / TRAVEL
Great way to introduce your child to travel soccer. Focus on ball mastery and sportsmanship. Teaching proper body mechanics and teamwork. Opportunities for optional extra training and games in the winter and spring. No need to sign up for more than one season at a time. Great coaches. Real club atmosphere.
2023 FALL SEASON
PRACTICES / TUE THU / 6:00-6:45 / STARTING AUG 22
GAMES / 6-8 PER SEASON / SEP 5 TO OCT 29
COST / $475 PER SEASON
SOME TRAVEL REQUIRED / 3-4 GAMES OUTSIDE OF AA
COMPETITION FORMAT / 4 VS 4 WITH NO GOALKEEPERS
MORE INFO / MPSA.ADM@GMAIL.COM